Insulated Roller Garage Doors
Secure & Affordable Aluminium Roller Garage Door Designs for your Home
Do you need a space saving garage door that will provide high levels of security combined with thermal and acoustic performance? If so you have come to the right place because here at Roller Doors Ltd we have one of the UK`s widest range of insulated roller garage doors for sale at some of the most competitive prices online.
Choose from leading manufacturers such as Gliderol, SeceuroGlide and Birkdale to find the perfect garage door solution to meet your requirements or contact us today for help and advice. With lots of options to choose from including manual and electric operation, made to measure sizes and lots of powder coated colours and woodgrain finishes it has never been so easy to add security, aesthetic appeal and thermal performance to your property at a price that you can afford.
Insulated Roller Shutter Garage Doors – Security without Compromise
If you are looking for a garage door that provides smooth operation, has a space saving vertical lift design which allows you to maximise the internal garage and driveway space then an insulated roller shutter garage door is an excellent choice. Designed to provide security without compromising on practicality the door gains strength through a double skinned insulated profile that interlocks together to form a continuous physical security barrier and has been designed to keep criminals away from the contents of your garage.
Furthermore, with a reinforced bottom rail, overlapping design and automatic locking as standard on electric roller doors you need never worry about forgetting to lock the garage ever again.
Want to find out more about the high security rating of the SeceuroGlide Excel? Click Here or contact us now on 0844 804 5577 to discuss the superb benefits.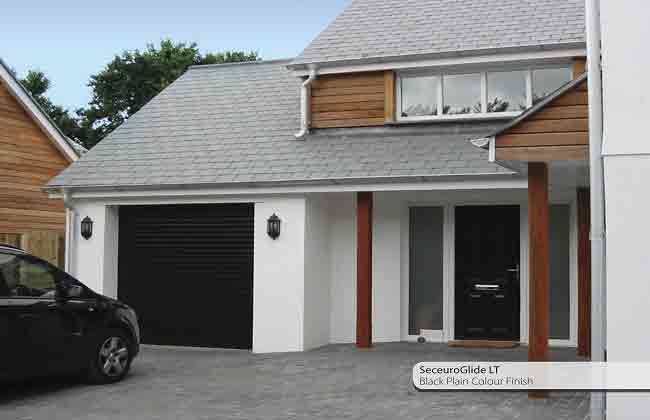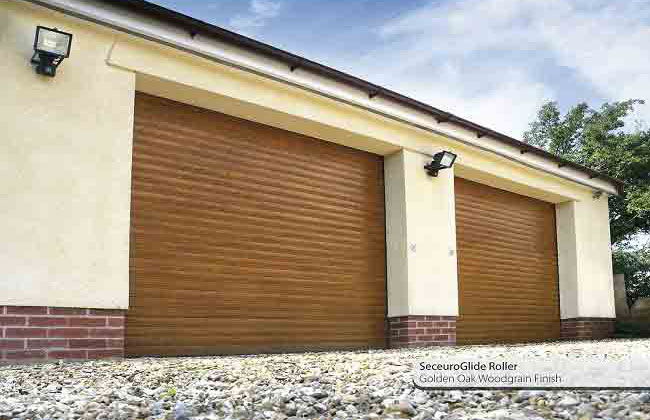 Stay Safe & Dry with an Electric Insulated Roller Garage Door
Featuring automation as standard our range of insulated roller doors feature simple to operate remote control operation making accessing your garage a breeze. Simply drive up to the door, press the button and the curtain will rise in front of you allowing you to drive straight in. This means you need never get wet or struggle to open the door on a cold dark night ever again!
What other benefits do they offer? In addition to the simplistic means of operation an insulated roller garage door will offer the homeowner lots of other benefits including the following.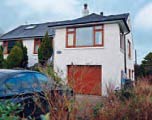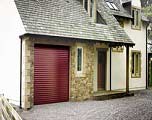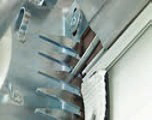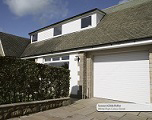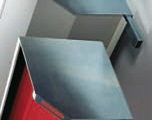 Twin Walled Insulated Aluminium Profile
Manufactured using a twin walled aluminium lath with foam filled insulation sandwiched in the middle an insulated roller garage door is strong, robust and rust resistant making it the ideal material for the UK. Designed to help stop heat escaping from the garage and cold air from entering the garage, the lath profiles interlock together to form an effective barrier that not only keeps the elements at bay but also criminals trying to gain unlawful entry.
Although most of our insulated roller doors are manufactured using 77mm x 18mm lath profile we also offer some compact roller door designs that are built using 55mm high lath. Whilst this is the perfect option for garages with severely restricted amounts of headroom they will not provide the same level of insulation and security so please bear this in mind when selecting the best option to suit your needs.
Vertical Lift Design
Unlike other residential garage door designs that swing outwards as they open and close the simple yet effective vertical lift design featured on an insulated roller door makes access issues a thing of the past (an excellent benefit if you happen to live in a property with a short driveway). As the curtain rises the door runs up in guides fitted behind the opening and coils around a shaft. This means that the entire curtain is housed within a small space resulting in additional storage space becoming available.
Safety Edge Sensors
To comply with the latest safety legislation, our range of insulated roller garage doors are fitted with a bottom slat safety sensor that is designed to stop the motor the instant an obstruction is detected meaning the door poses very little risk to the user making it a great investment for you and your family to use.
Important note on safety – Cheap garage doors are cheap for one reason. The quality of their components and the specification they are built to will be inferior in quality and should not be compared with the level of performance you can expect from a Gliderol or SeceuroGlide roller door. We therefore recommend that when you compare garage doors from different manufacturers you should be aware that unless it is fitted with a system similar to that detailed above the door will have to work on a "hold to run" basis in order for it to comply with legislation which is not very convenient to the end user. This is something a competitor will probably not mention until it is too late.
Safety Brake or Second Spring
Where a door size is larger than the required limit, our high quality insulated roller shutter garage doors feature a secondary means of stopping the curtain from dropping in an uncontrolled manner should one of the components fail. Whilst this will vary according to the design and manufacturer, some doors will be fitted with a spring within the barrel which also aids the motor helping to extend it lifespan.
CE tested and approved
Manufactured here in the UK by market leading companies such as SeceuroGlide our high quality insulated roller shutter garage doors are compliant with all safety legislation, have been tested and approved to meet the required level of compliance and carry CE marking to show conformity. This means you can have the peace of mind that you are buying a UK manufactured product that will keep you safe, secure and well insulated for many years to come.
Made to Measure Sizes
In order to achieve the best possible level of insulation and security all our roller garage doors are manufactured in bespoke made to measure sizes. This means that regardless of the existing opening width and height we are guaranteed to have the right size available. To find out more about the importance of made to measure garage doors click here.
Choice of Installation Configurations
By far the most versatile of designs on the market insulated roller garage doors can be fitted in a multitude of configurations depending upon the construction of your garage. Whilst the most common means of fitting the door is on the inside of the garage (so the guides and roller mechanism are concealed from view when looking from outside the garage) this is not always possible. In these instances the door can be fitted in between the opening, partially behind the opening, externally or pretty much any other configuration you could think of.
To find out more information on the installation possibilities of this type of garage door please refer to our technical specification and our frequently asked questions.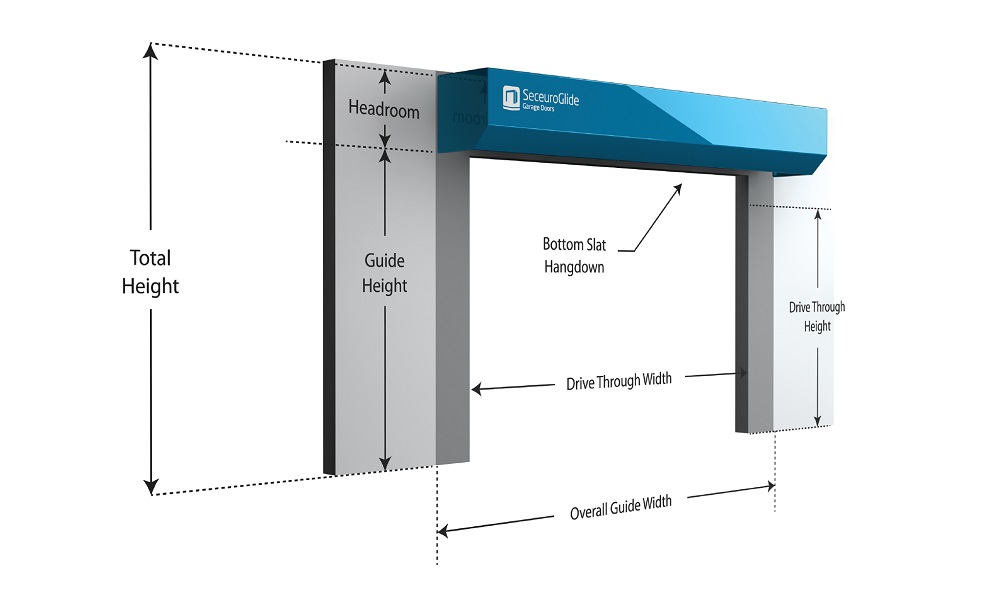 ---
Roller Doors Ltd – Supplying High Quality Insulated Roller Garage Doors Nationwide
With a wealth of experience within the industry supplying physical security products to a range of customer based throughout the UK, Roller Doors Ltd only sell products that we feel are made to the highest standards in the industry. For this reason we work closely with leading manufacturers to ensure you receive a product of the highest calibre at a price you can afford allowing you to be certain of making a wise investment.
So whether you live in Glasgow, Manchester London or Southampton why not take a look around the rest of our website to view our complete range of insulated roller garage doors or view the technical specification pages to see how much space you require to fit. Alternatively if you have a query you want answering you can also refer to our FAQ`s page, read the buying guide or simply call us on 0844 804 5577 and we will be pleased to provide support.
---
Choose from our range of Insulated Roller Doors
Choosing a new garage door can seem a daunting task however we are here to help you every step of the way. Detailed below are some of the main features of our best selling range of doors. So why not take a look at the options detailed below to see what model might best serve your needs or for more help choosing the right door refer to our articles and advice page.
---
Gliderol Insulated Roller Garage Doors
Choosing from the Gliderol insulated roller garage door range is simple. With 3 basic variations of the door available to choose from, there is a product to suit all budgets and requirements.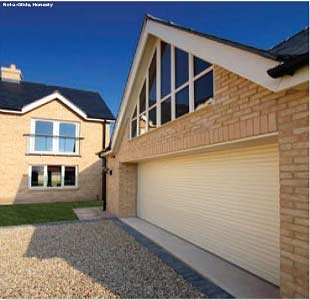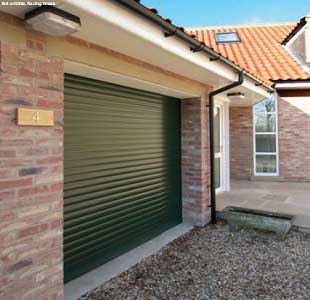 ---

Gliderol Roll–A–Glide Compact Insulated Roller Door
For garages with restricted headroom or where a smaller lath design is required, the compact insulated door from Gliderol is the ideal solution.Automated as standard and supplied with the majority of the benefits of the premium door. Available in made to measure sizes up to 4420mm x 2286mm in a wide range of painted colour and woodgrain laminated finishes.
Supplied as Standard With:
✓

2 x Remote Control Handsets

✓

Control Box with Courtesy Light

✓

Internal Manual Release

✓

Wireless Safety Edge

✓

Safety Brake (where required)

✓

68mm Colour Matched Guides

✓

Compact 205mm Door Roll
---
Gliderol Roll–A–Glide Insulated Roller Door
This is the top of the range insulated roller garage door that Gliderol manufacture. Available in 26 colour options in sizes up to 5200mm wide. Features an attractive 77mm lath design using interlocking insulated aluminium profiles to create a tough durable and energy efficient barrier to the garage opening. Automated as standard, the door is the ultimate performance garage door for your home.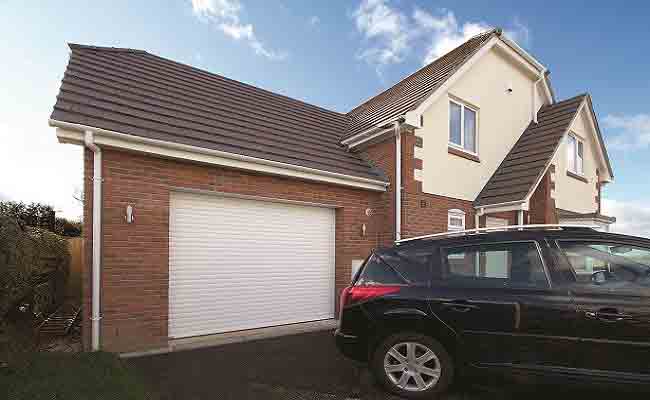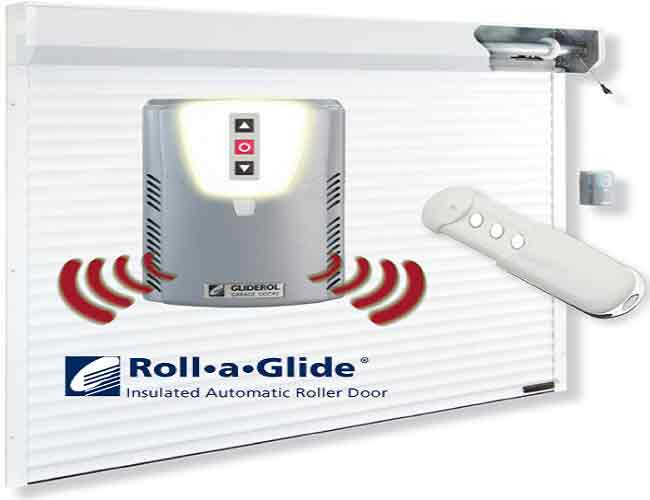 To obtain a quote or for more information about our physical security products call 0844 804 5577 and we will be on hand to provide help & support. Alternatively email your enquiry to sales@rollerdoors.co.uk
Supplied as Standard With:
✓

2 x Remote Control Handsets

✓

Control Box with Courtesy Light

✓

Internal Manual Release

✓

Wireless Safety Edge

✓

Safety Brake (where required)

✓

Colour Matched Guides
Optional extras available on this door include full and half boxes to fully conceal the door roll, vision slat windows to allow light to enter the garage space, wireless keypads, extra remotes and even battery backup units that will allow the door to operate automatically if the power is off.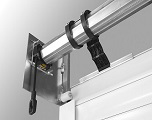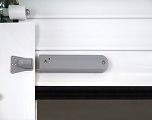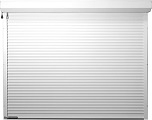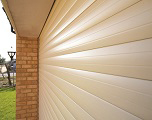 ---

Gliderol Roll–A–Glide Manual Insulated Roller Door
For homeowners looking for a energy efficient garage door but do not require the addition of automation, the manually operated door is the ideal product. Identical to the electric roller door in terms of appearance and colour options but is operated by hand and locked using a key. The curtain is lightweight and easy to operate due to spring tension in the door barrel to aid the user. Manufactured in bespoke sizes up to 3550mm wide and 2286mm high.
Supplied as Standard With:
✓

Colour Matched Guides

✓

Spring Assisted for Ease of Use

✓

Centre Mounted Key Lock
To obtain a quote or for more information about our physical security products call 0844 804 5577 and we will be on hand to provide help & support. Alternatively email your enquiry to sales@rollerdoors.co.uk
Birkdale Insulated Roller Doors
For over 25 years Birkdale have been manufacturing high quality insulated roller doors at some of the most competitive prices within the industry. With a large choice of designs to choose from in mini, midi and maxi styles they have a garage door to suit any residential requirement.

Whilst each model has a slightly different specification, many of the features come as standard across the entire range and include some of the following benefits.
✓

Insulation

✓

Security Tested

✓

Made to Measure

✓

Hand made in the UK

✓

Reinforced perimeter

✓

Reduction in sound

✓

Over 100 laminated finishes and 9 standard painted colours

✓

Birkdale roller garage doors now feature a market leading 7 year warranty on the motor, 15 year warranty on laminated finishes and 5 years warranty on door monitoring systems
Birkdale Classic Plus Roller Door
Manufactured in made to measure sizes to suit openings up to 5.5 metre wide the Classic Plus roller door offer many amazing benefits and features that will help to enhance the user experience. Handmade here the UK using high quality aluminium components these door feature the following benefits.
Laminated Finishes – Choose from over 100 finishes to create the perfect look for your door. Offering a harder wearing surface than a painted door Birkdale offer a 15 year colourfast warranty.
Quality Tubular Motors– Backed by an outstanding 7 year warranty the high speed motor fitted to the Classic Plus will provide smoother and faster operation than other designs making entering and exiting the garage hassle free.
Door Monitoring System – This reliable motion detection device offers full protection to the user both beneath and against the door making it very safe to operate and will stop the motor when an obstruction if sensed.
3 Function Spring System – Designed as a secondary safety feature that will stop the door from dropping in an uncontrolled manner the spring system also has the benefit of reducing the workload of the motor. In turn this provides a smooth and reliable operation for even the largest of size doors.
Remote Control – For convenient operation Birkdale Classic Plus roller garage doors are supplied with 2 x remote controls as standard. An internal wall mounted control box also come with the package which has up and down buttons to allow for operation of the door without the remote control.
Autolocks – Designed to securely hold the door down Birkdale`s revolutionary system features a spring clamp that is tested to withstand 30kg of upward pressure making it one of the most secure doors on the market (without an official Secure by Design rating) giving you the peace of mind your valuables are well protected. Furthermore they will last 10,000 cycles (if installed and maintained correctly) making them an excellent feature for the property owner that requires regular access into the garage.
Insulated Curtain – Constructed from 78mm x 20mm lath Birkdale roller doors are excellent at keeping the cold out of the garage making them an excellent choice where a room is above or the building is to be used as a workshop.
Manual Override – Designed to allow manual operation of the motor in the event of a power failure the internal crank handle allows the user to move the door upwards or downwards by hand.
Extruded Top and Bottom Rails – To gain addition strength, rigidity and security the top and bottom lath are constructed from extruded aluminium profiles. This results in a stronger perimeter and ultimately better protection against high winds and intruder penetration.
Touch Screen Control Box – Designed to be mounted inside the garage this sleek modern control box features a touch screen and comes with the benefit of LED light, battery status and safety edge status indicators allowing for easier diagnosis should a fault occur. Additional options include an alarm, smart phone operation and touch screen keypad.
Reinforced Endplates – Formed from die cast aluminium the endplates can be upgraded with steel reinforcement brackets as an optional extra which will make the door more secure, reduce installation time and allow for a stronger fixing.
In addition to the above mentioned features the Birkdale Classic Plus roller door can also be upgraded with the following accessories.
✓

Full box

✓

Low level external manual override

✓

Hood Lock

✓

Four channel handsets

✓

Key Pad

✓

Keyless Barrel Lock

✓

Alarm

✓

Battery Backup

View the full range of Birkdale insulated roller doors here or to get a quote please contact us now on 0844 804 5577 or email us with your sizes and we will send you a reply as soon as we possibly can.
To obtain a quote or for more information about our physical security products call 0844 804 5577 and we will be on hand to provide help & support. Alternatively email your enquiry to sales@rollerdoors.co.uk
---
Other Products for Sale by Roller Doors Ltd
We have a wide range of door solutions to suit the needs of any homeowner. We therefore recommend you take a look at some of our other products detailed below if you can`t decide if insulated roller garage doors are the right option for you.
Looking for a high security roller shutter garage door? Click here...