Birkdale Sectional Garage Doors
Manual & Electric Sectional Garage Door Options to Suit your Home
Providing security, reliability and superb levels of aesthetic appeal Birkdale Sectional Garage Doors are simply amazing value for money making then an excellent choice for any homeowner looking to get the maximum levels of performance for their money.
Manufactured in the UK to a market leading standard Birkdale sectional doors offer a whole host of benefits to the property owner including aesthetic appeal, insulation, ease of operation and durability making them a great choice for any residential garage regardless of its size.
To learn more about these excellent value doors, discuss your options or to get a competitive quote call now on 0844 804 5577 or email sales@rollerdoors.co.uk with your sizes and we will be on hand to provide assistance.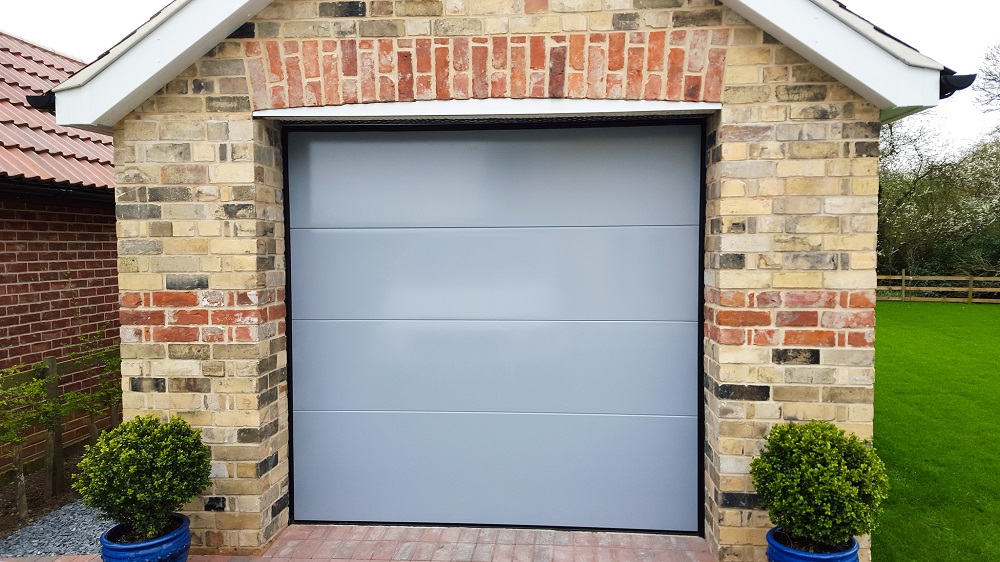 Birkdale Sectional Garage Door Designs
Available to order in made to measure sizes Birkdale have some magnificent designs to choose from. So whether you live in a period property and need a traditional garage door or have a modern home and prefer the look of a contemporary design why not take a look at the options detailed below to see what they can offer you.
High Line Sectional Doors – Simple Styling at an Affordable Price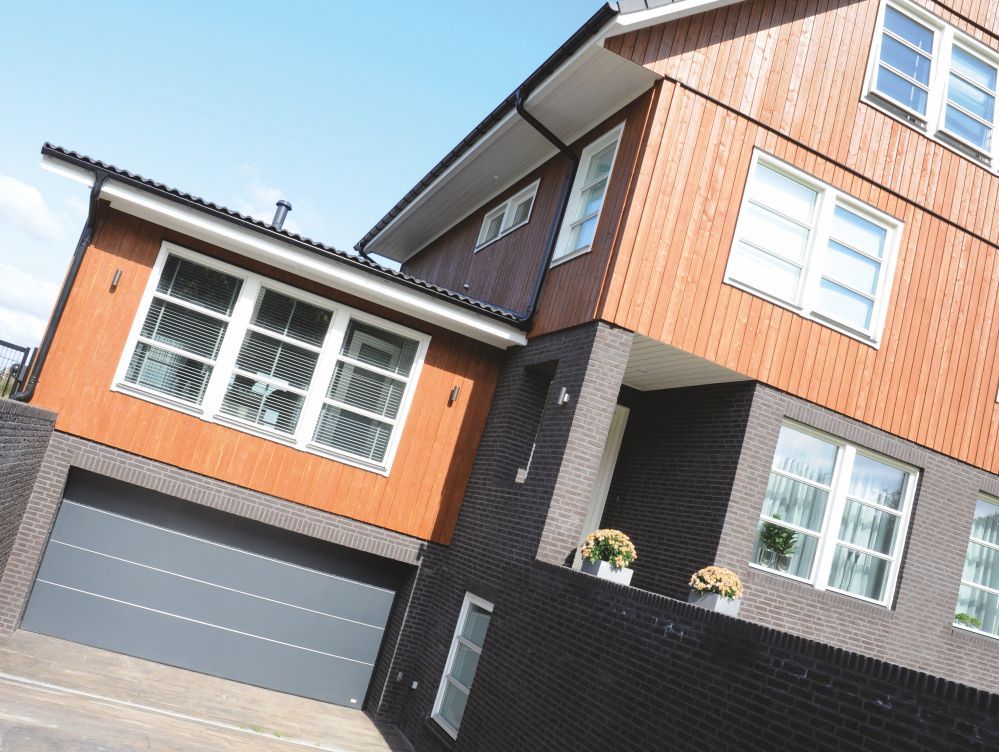 Manufactured from a double skin steel panel the Birkdale High Line is available in a choice of 4 thermally efficient insulated panel designs with the further option of a smooth, woodgrain or stucco finish. Featuring smooth and quiet opening and closing, the option of manual and electric operation a choice of colours and excellent levels of security this range of sectional doors is currently one of our most popular products.
Birkdale Wood Line Sectional Door – Designed with the Traditionalist in Mind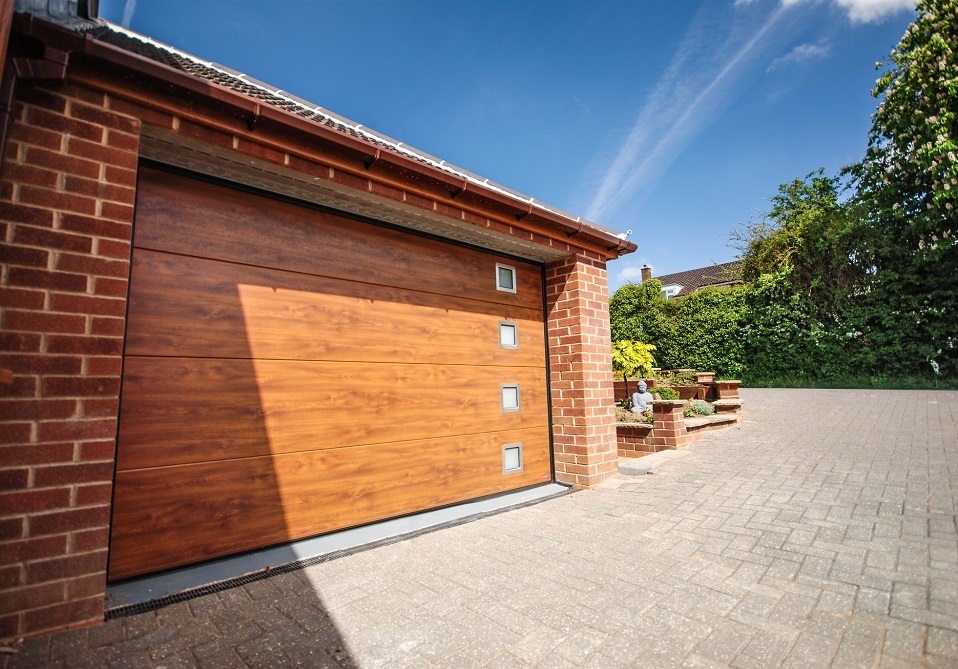 If you are looking for all the benefits of modern manufacturing techniques but still prefer the look of a traditional timber door then the Wood Line range is well worth considering. Available in a vast selection of laminated woodgrain finishes these doors provide give the appearance of timber without compromising on insulation, practicality and usability. Furthermore, unlike real timber they need never be painted or stained. Available in a choice of 3 attractive ribbed designs and a traditional cassette design (Georgian squares) meaning there will be an option to suit any style of UK architecture.
Design Line – Make a Bold Statement to the Entrance of the Garage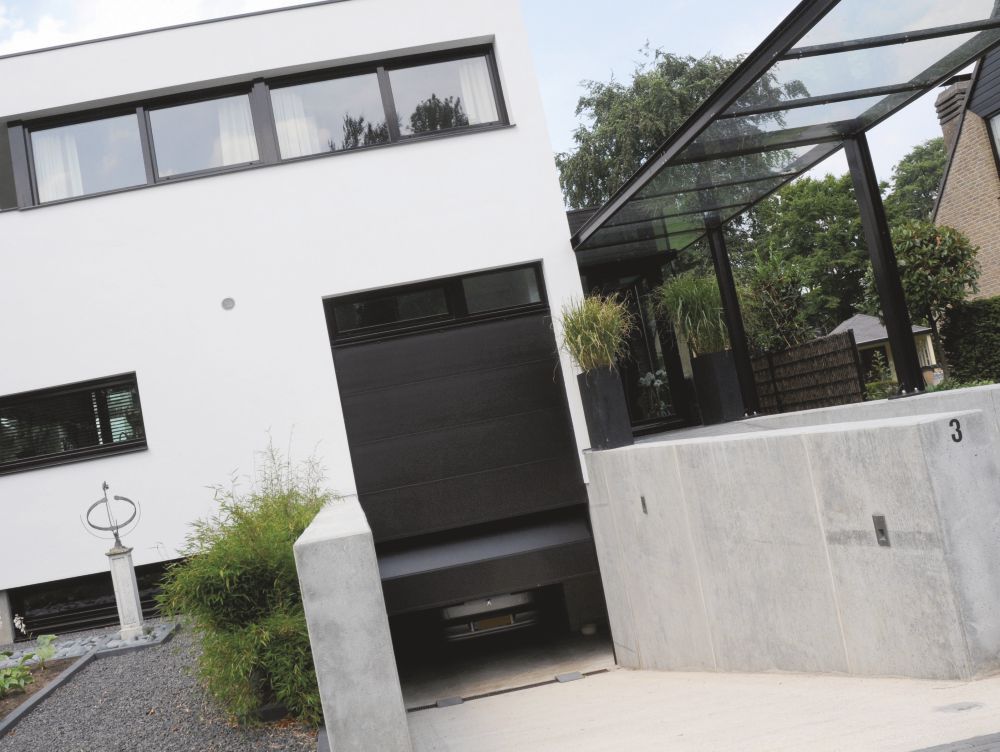 This range of insulated sectional garage doors by Birkdale will make a stunning focal point to your garage as they feature a number of well defined embossments designed to catch your eye. Capable of providing great levels of security and functionality they will suit both modern and traditional styles of property and as such are a worthwhile investment that will not only add value to your home but will also make it more aesthetically appealing to look at. With a choice of lifting gear to suit the construction of your garage, manual and electric versions and hundreds of finishes to choose from all in made to measure sizes we are confident we have the right specification to suit the tastes and budget of any UK homeowner.
Glazed Aluminium – For the Style Conscious Property Owner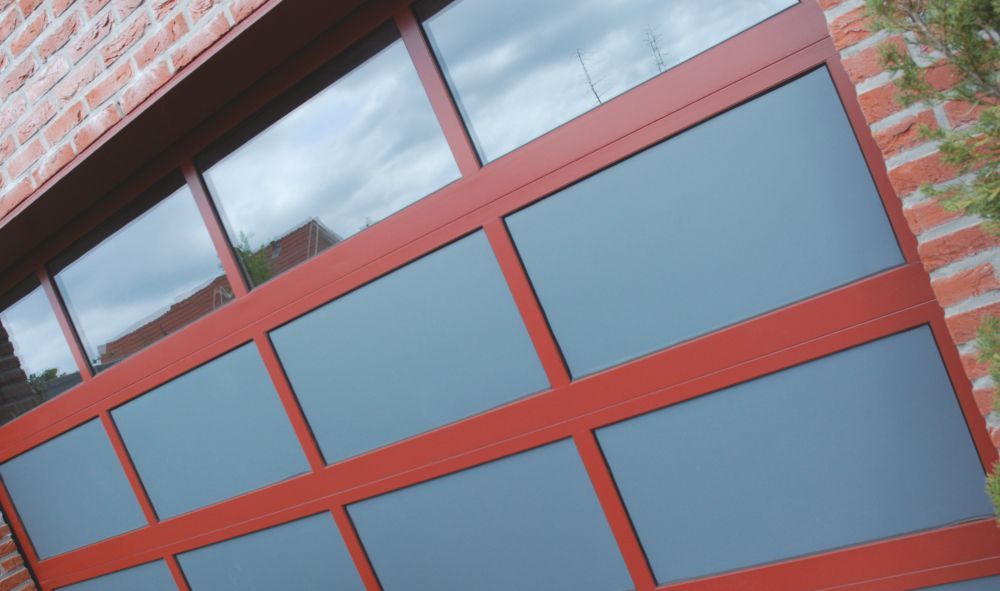 If you are looking to buy a high quality sectional garage door that stands out from the crowd then the Birkdale range of Glazed Aluminium doors may be for you. Featuring an endless number of designs the doors feature a combination of blank and transparent panels allowing you to create the perfect design to suit your tastes and property design.
If you would like to find out more information about the range of Birkdale sectional garage doors, need help choosing a style to suit your home or have a question that you want answering simply call now on 0844 804 5577 or send an email to sales@rollerdoors.co.uk and we will be on hand to provide support.
Birkdale Sectional Doors – Keeping you and your Garage Safe & Secure
Designed to meet the required industry standard a Birkdale sectional door is inherently safe for the user to operate at all times and has the following integral features as standard (where required).
Spring Break Safety Device – This device is designed to keep the user safe from the risk of injury by stopping the door panels dropping in an uncontrolled manner (should one of the major mechanical components fail.)
Automatic Locking – Should you choose to specify an electric operator the motor will automatically lock the door after every closing cycle. Featuring an inbuilt anti lift device the door will be firmly held in the closed position in the event that somebody tries to force it open by hand.
Theft Protection – Manually operated Birkdale sectional garage doors are all fitted with SKG certified locks meaning the garage should remain secure in the event a criminal pays you a night time visit.
Force Limitation – To protect both the user and property from the risk of injury all Birkdale electric garage doors have a motor with an inbuilt safety feature that will stop the movement of the door if added resistance is sensed during the operating cycle. If triggered the motor will stop then auto-reverse itself back open again.
Anti Pinch Panels – In order to remove the risk of fingers getting trapped as the door opens and closes the panels have been designed with anti pinch guards.
Sectional Door Options and Accessories
If you would prefer to enhance your user experience Birkdale sectional garage doors can be upgraded with the following options detailed below.
Colour – All doors are supplied as standard with a hardwearing and durable white top coat of paint. If you would prefer a different colour this is not a problem as they can also be specified in virtually any colour imaginable.
Colour-Line Stucco - These great value doors have a 40mm steel insulated panels are available in Stucco and feature horizontal lines for a contemporary appearance. They are available in twenty standard colours to suit most common colour schemes.
Design-Line - Door panels within this range are available in Umbra, Antra and Nature designs.
Garage Door Windows
Why not add some light into your garage with the addition of windows within your new garage door. With a choice of round, square and rectangular designs they not only functional but can also help to enhance the look of the door.
NB* Glazed sections can be used in nearly all doors.
Guide-Rail Systems / Lifting Gear
Whilst you will probably pay little attention to this area of the door the quality and stability of the tracking mechanism featured within a sectional door will play a large part in determining its overall lifespan. For this reason all Birkdale sectional doors have made to measure guide rails constructed from high quality galvanised steel to protect against rust and come in a choice of 3 designs.
Front Mounted Springs – This type of lifting gear features a torsion spring that is fitted to the back of the opening (usually to the lintel). Due to this the minimum headroom you will need is 200mm.
Rear Mounted Springs – Where headroom space inside the garage is restricted or the construction of the opening does not allow for fixing to the back of the lintel the rear mounted spring option is the one of choice. Requiring just 100mm top clearance the door can usually be fit into garage with even the smallest amount of headroom.
Side Springs – These are suitable for doors up to 3000mm wide and are very easy to set up and adjust making them a great option for DIY installations.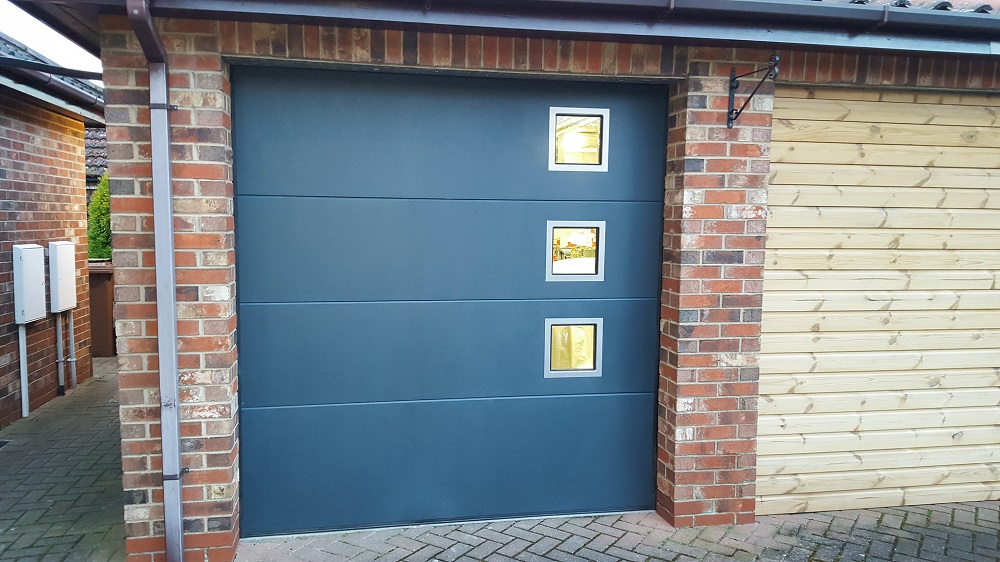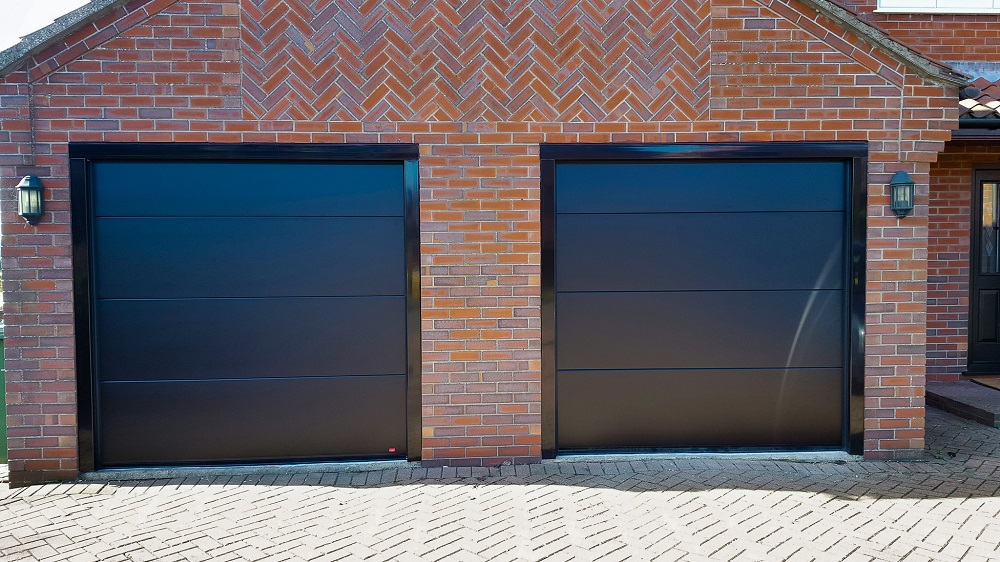 View our full range sectional garage doors in a choice of styles and designs