Technical Specification
Sectional Garage Doors
A sectional garage door is a vertical lift design that is constructed using a number of individual panels that are hinged on the inside face. The hinges allow the panels to retract back around the curved profile of the guide rails to allow it to sit horizontally within the ceiling space when the garage door is fully open.
Both the insulated and single skin variations are most commonly installed inside the garage opening. The vertical tracks fix to the back of the brickwork therefore allowing the maximum possible drive through width to be maintained. The horizontal tracks are connected to the ceiling above using a number of hanging brackets that are capable of taking the doors weight safely.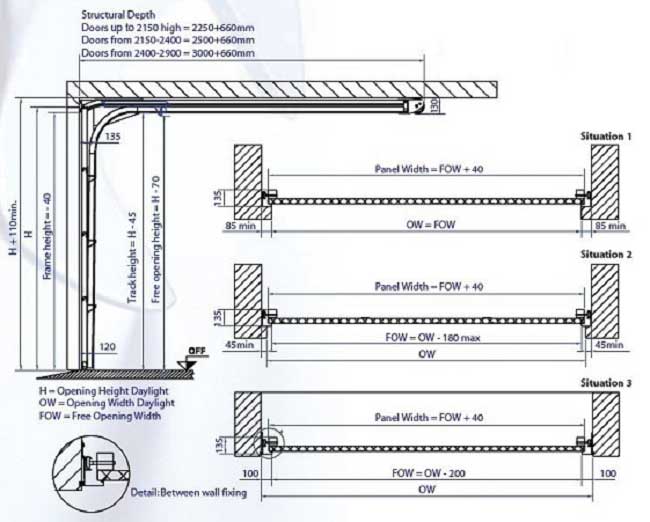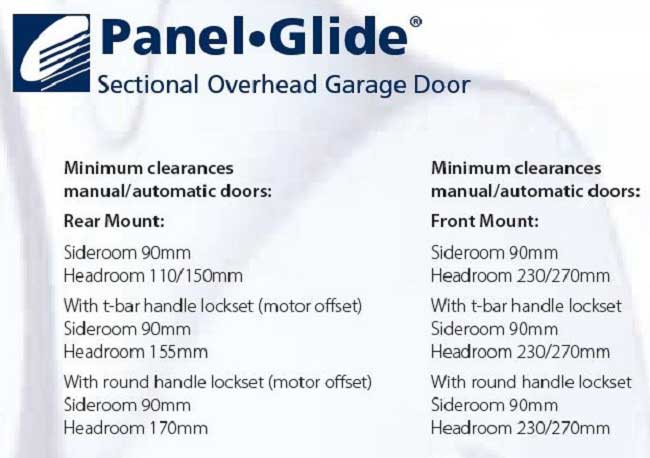 Side Room Requirements
As the door is primarily designed to be "face fixed" inside the garage, it is essential that adequate headroom and side room is available to install all the necessary hardware and running gear. We recommend that a minimum of 120mm of space is available each side of the opening to make installing the product as easy as possible. However, if space is restricted they can be installed with just 90mm of space but will be more difficult to fit and any deviations in the building structure may leave the door impossible to install.
For installations where there is no available side room in which to conceal the guides there is now the option of a between the reveal fitting kit. This kit allows the tracks and guides to be installed between the opening in the same way as a standard up and over garage door. Where required, this kit is supplied with 2 x frame leg covers that conceal the vertical tracks and provide a quality finish to the installation. In addition to this a fascia is also supplied with the kit.
Headroom Requirements
In order to maintain the full drive through height of the opening, we recommend that there be a minimum of 110mm of headroom available for a manual door and 150mm of headroom for an automatic door. Please note that if you plan on fitting a handle you will require up to 60mm more headroom space.
This measurement is taken from the underside of the lintel to the bottom of the roof trusses or the lowest obstruction. Please remember that this height must be maintained back into the garage the full height of the structural opening plus 660mm. If the headroom is limited or restricted by low beams, the door can be installed lower and the gap formed at the top of the opening can be covered using the white fascia that is supplied as standard on all Gliderol sectional doors.
To obtain a quote or for more information about our physical security products call 0844 804 5577 and we will be on hand to provide help & support. Alternatively email your enquiry to sales@rollerdoors.co.uk