SWS SeceuroVision Security Shutters
UK Manufactured Shutters for Windows & Doors
Manufactured by SWS UK, SeceuroVision Security Shutters are the number one choice for business and property owners looking for a reliable, effective and durable means of securing the contents of a building at a realistic price. Constructed using quality components to ensure an effective level of protection can be provided the shutters are practical in design, easy to operate and provide maximum levels of vision and light making them an excellent choice for commercial properties and retail outlets.
SeceuroVision Security Roller Shutters – Options to Suit your Requirements
Available to order in a choice of designs and specifications the SWS SeceuroVision roller shutters feature a versatile design that allows light and vision through the curtain making them an excellent alternative to a traditional shop front shutter. So whether you have a large retail outlet with a high value window display or have a reception area that needs to be secured out of hours we are confident you will find an option to suit at a price you can afford.
To obtain a quote or to discuss your options with one of our friendly members of staff call now on 0844 804 5577 or email sales@rollerdoors.co.uk
SeceuroVision 38
Constructed using high grade aluminium components the SeceuroVision 38 features a compact and lightweight design making it simple to operate and capable of fitting into restricted spaces. With an ability to provide 45% vision the extruded slats used to make up the curtain feature punched out sections which results in the being capable of providing high security for domestic applications and medium security when used in a commercial setting.
Available to order in manual or electric operation the shutters have a white, brown or black powder coated paint finish as standard. Optional extras include the choice of virtually any RAL colour, glazing to the punched profile along with a selection of control options.
Overview
Available in a choice of punched and perforated designs.
Manufactured from high grade extruded aluminium.
Simple to operate.
Achieves up to 45% vision (17% perforated).
Available with the option of polycarbonate glazing.
Suitable for a wide range of commercial, retail and hospitality installations.
Manufactured to span a maximum width of 3000mm.
Choice of in-line or brick bond lath pattern.
Available in standard and non standard RAL colours.
Can be used in conjunction with SeceuroShield 38 solid lath.
Compact components enable the shutter to fit into even the tightest of spaces.
To find out more details about the SeceuroVision 38 security roller shutters click here or call now on 0844 804 5577 and we will be pleased to run through all the options that you might require.
SeceuroVision 75
Designed for shops, retail outlets or any other location where security is required the SeceuroVision 75 roller shutter is manufactured using high grade galvanised steel components to ensure strength, rigidity and all round performance. Available in a choice of punched and perforated profiles the shutter will provide 25% vision when backlit, offers medium levels of security and can be specified in a choice of manual or electric operation thus allowing you to tailor the shutter to match your needs. Supplied as standard in galvanised steel or can be powder coated white, black or brown for no additional charge.
Overview
Constructed using a high strength galvanised single skin steel profile.
Provides up to 25% vision (when lit from behind).
Designed to provide medium levels of security to shop fronts, offices, commercial buildings and industrial settings.
Available in widths up to 6000mm.
Available powder coated white, black or brown as standard.
Option of RAL colours where required.
Can be combined with solid lath when only part of the curtain is needed to be perforated.
Choose from traditional and continental designs.
Want to find out more information about the SeceuroVision 75 Security Shutter? Simply click here for a more in-depth overview.
SeceuroVision 800
Designed for medium security commercial and retail outlets the SeceuroVision 800 provides 62% vision through the curtain making it the shutter of choice where window displays need to remain visible even when the shutters are locked down. Featuring a space saving vertical lift design the curtain is made up of punched aluminium lath profiles resulting in lightweight manual operation whilst the smooth, quiet and reliable motor fitted to the electric shutter provides optimum levels of convenience to the user.
Available to order in made to measure sizes the SeceuroVision 800 comes as standard in a choice of hardwearing powder coated paint finishes or where the specification requires can also be supplied in virtually any RAL colour. With a choice of control options including rocker switch, key switch and remote control operation securing your business premises just got a whole lot easier thanks to this superb value product.
Overview
Hardwearing and secure extruded aluminium profile.
Enables up to 62% vision through the curtain.
Provides security without compromising on vision.
Designed for medium security retail / office and commercial environments.
Manufactured in made to measure sizes up to 6000mm.
Available in a choice of standard and special RAL colours.
Can be combined with solid lath profiles to create the perfect curtain to suit your needs.
Learn more about the SeceuroVision 800 security shutter here.
Seceurovision 900
A stylish alternative to a traditional shutter the SeceuroVison 900 provides excellent levels of light transmission through the curtain making it a superb choice for business owners looking at for an attractive yet effective means of securing window displays. Delivering up to 69% vision the shutter will provide medium levels of security when installed in a retail / office or commercial environment.
Manufactured in bespoke sizes up to 5000mm in width the shutters can be specified with spring assisted manual operation or where a more convenient method of opening and closing is required the SeceuroVision 900 can also be specified with and electric motor. Supplied in a choice of standard colours or can be painted to any RAL colour.
Overview
Designed for internal use.
Manufactured in the UK using extruded aluminium profiles for optimum strength and performance.
Provides up to 69% vision through the curtain.
Compact roller mechanism will fit into restricted spaces.
Offer medium levels of security in a retail / office / commercial environment.
Available to order in widths up to 5000mm.
Choose from a wide array of colours.
A choice of 150 mm or optional 75 mm vertical link spacing.
For higher levels of security solid slats can be added in a number of configurations.
Want to find out more? Click here to learn more about the excellent benefits and features of the SWS SeceuroVison 900 here.
Roller Doors Ltd – Supplying SeceuroVision Security Grilles throughout the UK
With a wealth of experience within the industry and some of the most competitively priced products online we are able to offer practical advice and solutions to your physical security issues. So whatever your requirements may be simply call now on 0844 804 5577 or email sales@rollerdoors.co.uk and we will be on hand to provide support or to give a quote.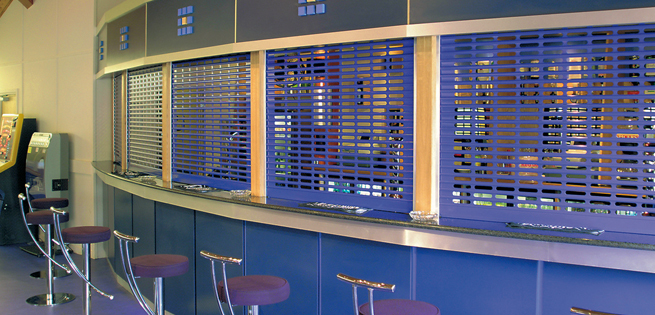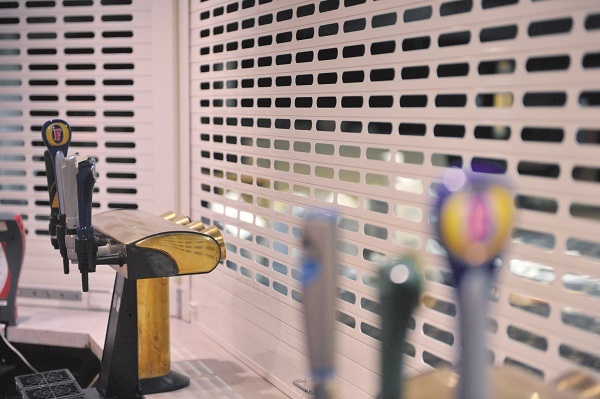 To obtain a quote or to find out further information please contact us on 0844 804 5577 and we will be pleased to offer any help you may require. Alternatively email your enquiry to sales@rollerdoors.co.uk