SeceuroGlide Classic Roller Shutter Garage Doors
The Original Insulated Roller Garage Door
Leading the market in terms of strength and quality the insulated aluminium SeceuroGlide Classic Roller Shutter Garage Door will provide security, thermal performance and aesthetic appeal to any domestic garage making it a great addition for the UK property owner looking to protect their valuable assets from the threat of criminals and vandals.
When compared to other insulated roller garage door designs the SeceuroGlide Classic wins every time. With a wide range of features including smooth, quiet and reliable operation the door is simple to operate using a remote control and will even automatically lock itself after each opening and closing cycle ensuring you never forget to secure the garage ever again. Furthermore with a patented locking design the SeceuroGlide Classic aluminium roller does not rely on locking straps alone and as such will mechanically hold the curtain closed in the event of someone trying to force entry (this feature is unique to SeceuroGlide).
The preferred choice of builders and architects the SeceuroGlide Classic is excellent value for money and with some superb manufacturer warranties and the option to upgrade to the high security SeceuroGlide Excel this high quality garage door will provide years of security and peace of mind making it an excellent choice for your home.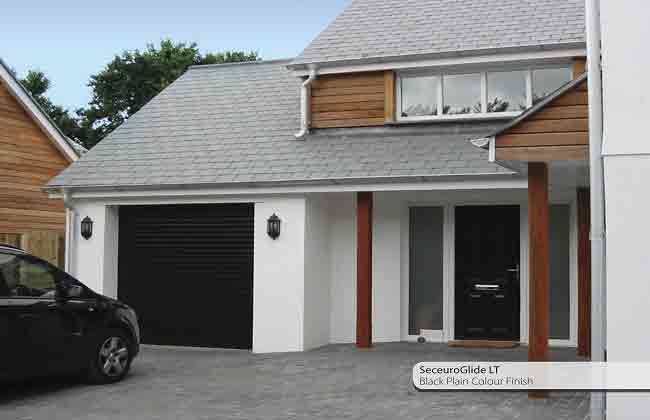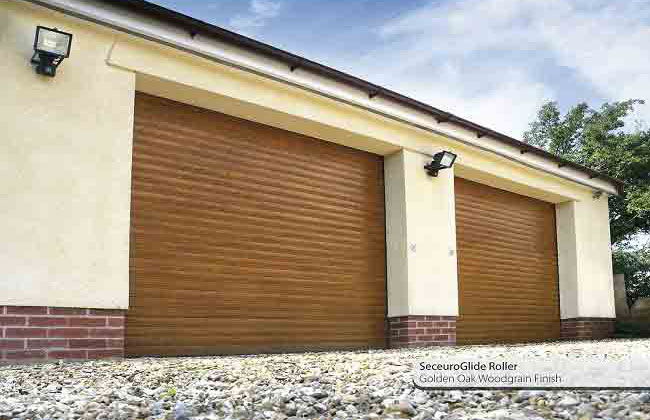 SeceuroGlide by SWS UK - Helping to Secure Garages for over 25 Years
Over the last 25 years the SeceuroGlide brand has be setting the standard in roller door design. Through continuous improvements the doors have evolved to keep in line with new manufacturing techniques and changes in legislation whilst remaining at the forefront of the industry and as a result of these improvements we strongly believe that the SeceuroGlide Classic roller garage door offers the best levels of security, the most reliable performance and ultimately the best value for money of any available garage door design within the UK.
Learn why you should only buy garage doors from reputable manufacturers >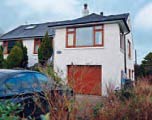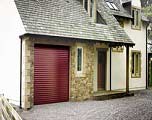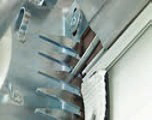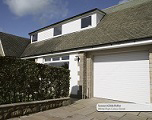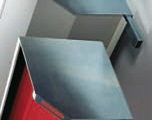 SeceuroGlide – Electric Roller Garage Doors you can rely on!
Now featuring the SeceuroDrive tubular motor with an amazing 7 year manufacturer warranty the SeceuroGlide Classic is convenient to operate, comes in a range of colours and thanks to the insulated curtain will help to reduce heat loss from within the home.
Manufactured from high quality insulated aluminium lath the door is made up of interlocking sections that are secured together with webbing for added security and quieter operation. As a result the SeceuroGlide Classic roller door blends timeless looks with modern materials to form a strong and robust physical security barrier that will keep the entrance of the garage well secured at all times and with minimal friction of the moving parts will require very little maintenance making them the number 1 choice of many property owners throughout the UK.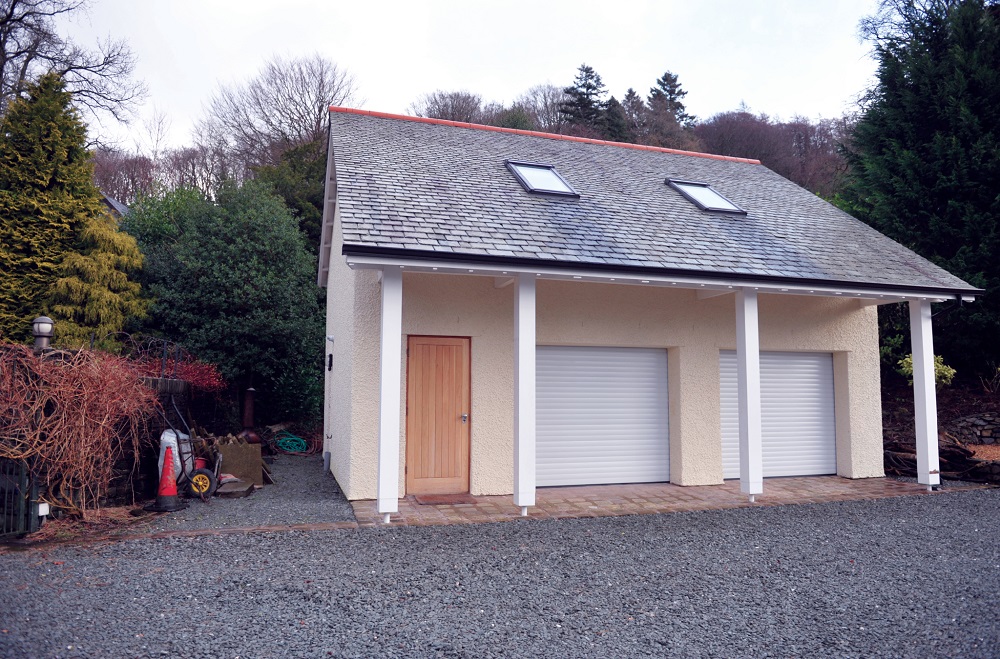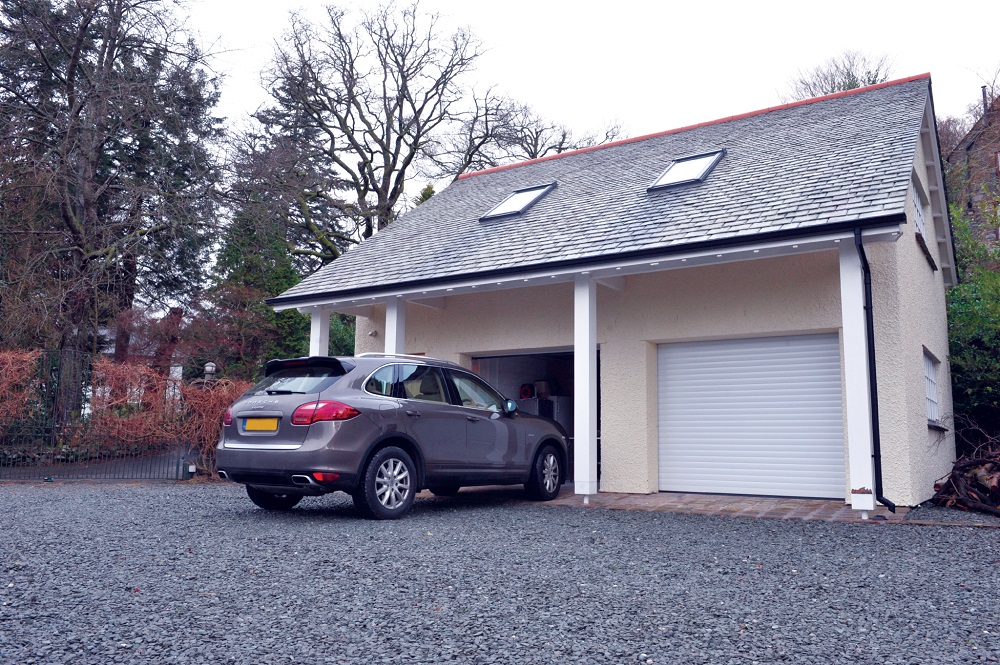 ---
SeceuroGlide Classic Specification
Manufactured in made to measure sizes up to 5400mm in width and 3850mm in height.
Available to in 14 powder coated paint finishes as standard along with numerous laminated woodgrain finishes.
For an additional charge the SeceuroGlide Classic can be supplied in any RAL colour allowing you to get a perfect match for existing windows and doors.
Automated as standard using a smooth and reliable SeceuroDrive motor with an industry leading 7 year warranty.
Suitable for internal, reveal and external fit installations.
Patented locking mechanism makes the door far more secure than other manufacturer`s designs.
Supplied with a wireless bottom slat safety edge that is designed to stop the motor when an object is detected (this item plays a major role in the compliance of the door).
Manufactured from 77mm insulated aluminium lath to provide optimum levels of security along with thermal and acoustic performance.
Fully CE marked and tested to meet all relevant safety legislation.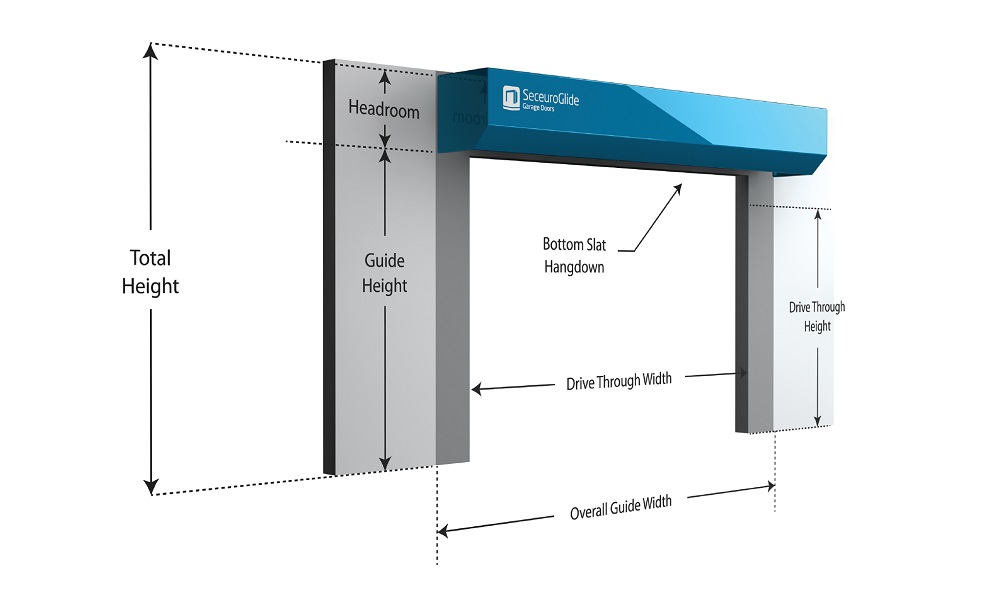 What`s Included as Standard?
Whether you need a small door to secure a single entrance or need a double door to secure a larger opening all SeceuroGlide Classic insulated aluminium roller garage doors are supplied with the following benefits as standard.
All major components pre cut to size allowing for easy and convenient installation
2 x Remote controls (you can mix and match the handsets from the 5 standard designs)
Tubular motor fitted with an internal manual release
Wall mounted SeceuroSense control box with up and down buttons and a courtesy light
Wireless bottom slat transmitter
Comprehensive fitting instructions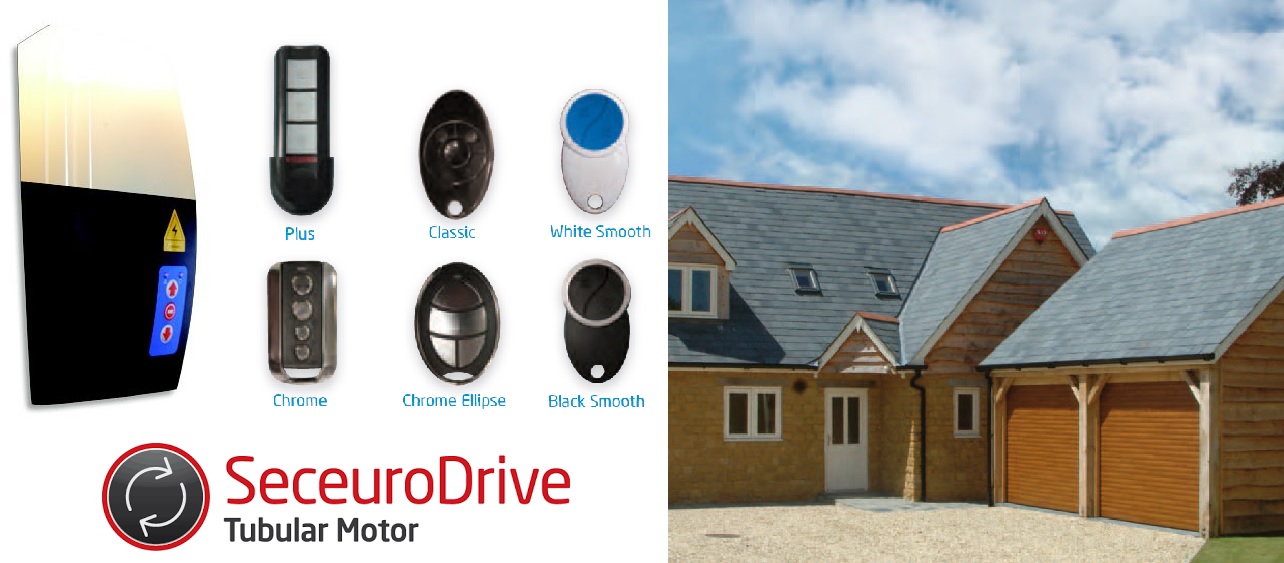 Upgrade your Roller Door with Enhanced Features
To further enhance the door the SeceuroGlide Classic can be supplied with some of the following optional extras.
Alarm Kit
Lighting Strips
Bi Directional Remote
Full and Half Box
Vision Slats
Ventilation Slats
Additional Remote Controls
SecuroGlide Connect and Connect +
Wireless Keypads
Low level external manual release
Colour Options
The SeceuroGlide Classic insulated aluminium roller shutter garage door is available to order as standard in a wide range of hardwearing powder coated finishes to suit your home along with a selection of attractive laminated woodgrain finishes that will match existing windows and doors. Alternatively the doors can also be supplied in a choice of any RAL colour.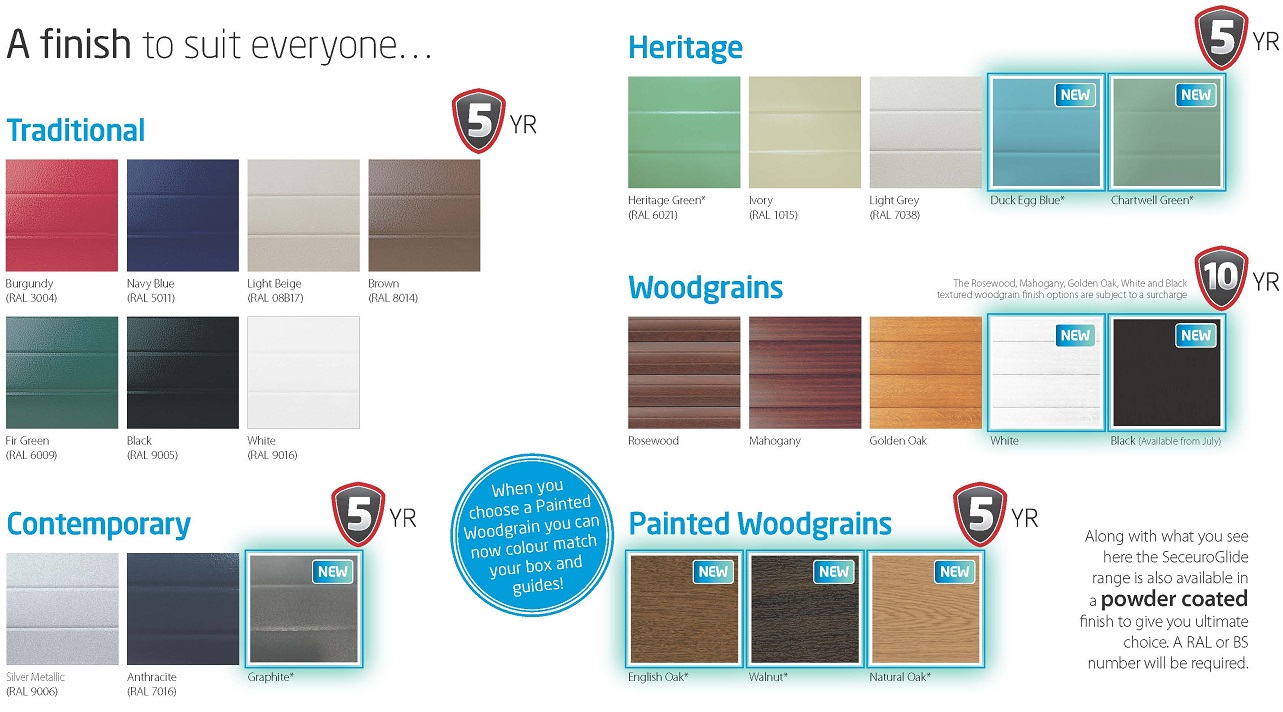 ---
Designed for Safety, Security and Convenience
Safety for You and Your Family: As a leading UK manufacturer who is at the forefront of the industry all SWS SeceuroGlide garage doors are fully compliant with all safety legislation, have been tested and approved to meet the required standard and as such are fully CE marked to show conformity. All electric roller garage doors are fitted with a wireless safety edge that will stop the motor as soon as an object is detected giving peace of mind that you, your family and your belongings will be kept safe at any time the door is in operation. Furthermore, to ensure the curtain cannot drop in the event of a major mechanical failure SeceuroGlide roller doors come with a second spring or safety brake wherever required.
Well Secured Against Criminals: Manufactured with a unique locking mechanism the SeceuroGlide Classic feature`s a mechanical locking collar that is specifically designed to hold the curtain closed in the event of an break-in.
Save Space on the Driveway: The major benefit of the SeceuroGlide Classic is the vertical lift opening and closing. This makes parking and accessing the garage far easier and is especially useful for properties that have limited parking space or short driveways.
---
Want to find out more about the SeceuroGlide Insulated Aluminium Roller Door?
If you are interested in ordering this high quality, attractive and durable roller garage door by SWS UK please feel free to contact us today to get a quote. Call 0844 804 5577 to speak with one of our experts or simply email us with your sizes and we will be happy to send you a no obligation price as soon as we can. Alternatively to find answers for many common question relating to this type of garage door please refer to our frequently asked questions, buying guide, technical specification and advice pages.
---
Other Products by SWS UK
As one of the leading UK garage door manufacturers SWS have a wide range of physical security products to choose from that not only offer excellent levels of protection against criminals but also offer fantastic value for money. So if you want to compare the SeceuroGlide Classic Insulated Roller Shutter Garage Door with some of their more popular products we recommend that you take a look at the pages detailed below.