About Sectional Garage Doors
What is a sectional garage door?
A sectional garage door is an innovative design that has all the benefits of a modern technology but with the appearance of a traditional form of garage door. Vertically opening, the door is made up of 4-5 panels that hinge back inside the garage as it rises within the opening. Once fully retracted, the panels sit horizontally within the roof space and are supported off horizontal tracking.
This simple yet effective design results in the full width and height of the opening to be achieved making it ideal for homeowners with larger vehicles or where the driveway is short. Available in a range of designs to match your homes architectural style, a sectional garage door is fast becoming one of the most popular door types available.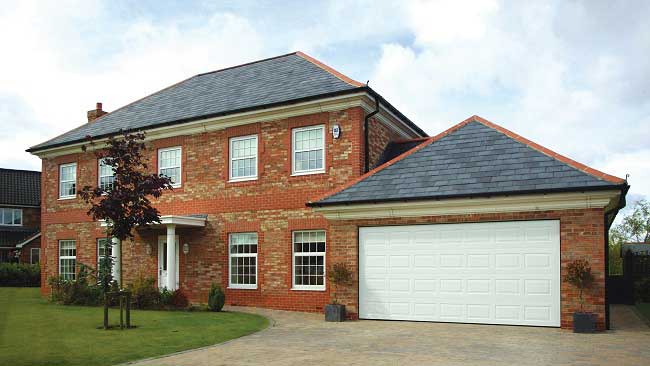 Thermally Efficient and Highly Secure
Whilst there are non insulated variations available for garages that are detached from the main part of the house, one of the great benefits of a sectional door is that it can be manufactured to include insulation making them perfect for homes with attached garages. When you consider the large structural opening of the space is one of the largest thermal breaks in a property, it makes great financial sense to try to reduce the amount of heat escaping from it. By selecting to install an energy efficient insulated door, heat will be retained inside the home for much longer periods of time and can result in adjoining rooms becoming that much warmer than before leading to reductions in costly heating bills.
Standard or Bespoke Sizes
Supplied in 16 standard sizes up to a width of 4877mm and a huge selection of height variations up to 2980mm there is sure to be a door suitable for your requirements. Should the garage opening fall outside of a standard sized door, Gliderol are able to manufacture bespoke sizes in millimetre increments to ensure the perfect fit.
Please note this option carries a surcharge.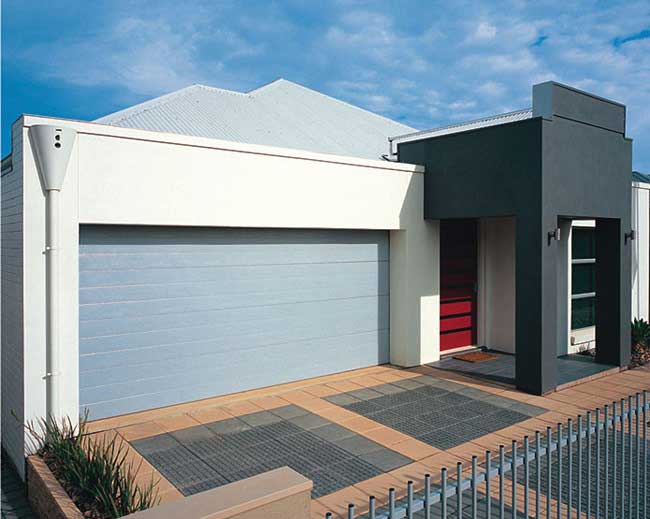 Range of Colours
Sectional garage doors can be specified in a choice of standard painted colours or the option of laminated wood grain finishes.For a one off look, we can also order the door for you in any available RAL colour that will help to create a unique and individual appearance to your property.
Smooth or Woodgrain Finishes
Gliderol sectional doors are available in a choice of a smooth contemporary finish or can be embossed in a wood grain effect finish to give the appearance of a painted timber door.
Window Designs
Design details are what separate`s a good sectional garage door from the very best. With a vast selection of window designs to choose from, Gliderol allow homeowners to create a really unique appearance to the garage frontage and will not only allow light to enter the space but will also add to the overall aesthetic appeal of the home.
How do I find out more about sectional garage doors?
Ultimately, we provide choice, quality and security. We know all about 21st century living; we realize that garages aren't just places to store cars anymore; they are a vital and much-used additional room in any modern home. Some people convert them into gyms or a hang-out for the kids, other people use them as utility rooms and some people are now even converting their garage spaces into bars or poker hangouts. With such a wide variety of uses for the modern garage, it only seems right that there are a wide variety of door types as well. Windows can bring light into any room whilst insulated garage doors will bring homely warmth to your new extension. Ultimately, you need a unique door to fit your unique purposes and that's why we have everything, from the traditional to the contemporary, from the automatic to the manual; your perfect garage door is only a click away. For more information take a look around the rest of the website and if you have any questions, please don't hesitate to get in touch.