Roller Doors - Technical Specification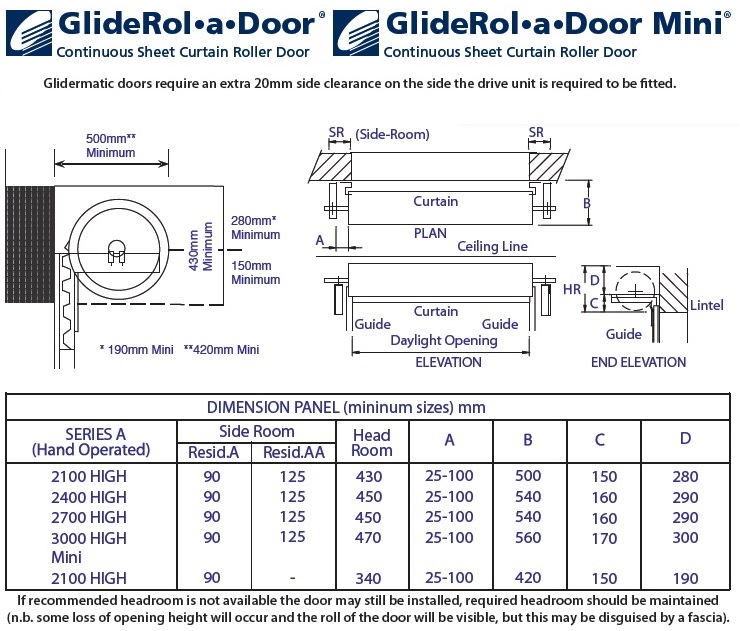 Standard Single Skin Gliderol Roller Garage Doors
Installing your door
The biggest concern with a roller door is having the capacity to house and conceal the rolled up section of the door within the garage. We have provided you with helpful guidelines for the minimum headroom clearance required (from the lowest point of the ceiling to the top of the opening) and these are, for domestic installation, as follows:
OPENING HEIGHT up to 2135mm HEADROOM REQUIRED 430mm
OPENING HEIGHT up to 2440mm HEADROOM REQUIRED 450mm
OPENING HEIGHT up to 2740mm HEADROOM REQUIRED 450mm
OPENING HEIGHT up to 3055mm HEADROOM REQUIRED 470mm
If you can't meet these opening heights then a facia panel can be fitted, however this will reduce the opening height of the door.
The door will also require a minimum internal side room clearance of 90mm for a single manual domestic door and 150mm for a double manually operated domestic door.  If you're having a motor fitted then you need to add a further 20mm on the side the motor will fit.
---
Mini Single Skin Gliderol Garage Roller Doors
Compact Design
The Gliderol mini roller is a compact version of the standard door with a few slight differences in terms of the space required to install it correctly and the sizes available. With a more compact drum wheel, Gliderol mini roller garage door is able to fit into garages with restricted headroom. Requiring just 340mm of space, this is the ideal product when space is at a premium.
Designed to be installed in exactly the same manner as the larger standard door, with the guides fixed to the back of the opeing and the roll concealed from view behind the lintel, the Gliderol mini roller requires the following space to allow for the guides and roller brackets to be installed correctly.
Manual Garage Roller Doors - 90mm minimum each side of the structural opening.
Automatic (Electric) Garage Roller Doors - 90mm minumum on one side of the structural opening and 175mm minimum on the side of the door the motor is to be fit.
NB** All the above dimensions are the minimum requirements as recommended by the manufacturer.